on October 05, 2017
In 2014 the Dutch band Epica relaunched its website with Stage CMS - and never looked back.
Dutch Guitarist Mark Jansen founded the Symphonic Metal band Epica in 2002, after leaving his previous act, After Forever. Throughout their career, the band's music has stayed true to their name and is a bombastic combination of heavy guitar riffs and lead-singer Simone Simon's classically trained voice.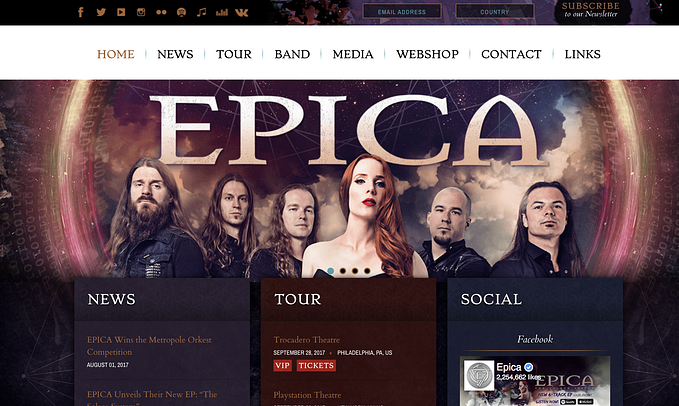 They started using Stage CMS to host and manage their website with the release of their album "The Quantum Enigma" in 2014. The site was redesigned for their release of "The Holographic Principle" in 2016, in order to match the new record's immersive artwork and other visual creations, like the accompanying music videos.
On the road
Epica uses Stage's tour component to its full extent. It allows publishing of upcoming concerts on the website, including date, location, and support acts, as well as links to ticket shops for both VIP and regular tickets. The component is optimized to allow fast entry of upcoming shows while keeping a history of past shows.
"The old Epica website had a CMS that was difficult to use and had limited options. It was very inflexible and we had to use several tools to manage it. Stage allowed us to have a beautiful website that is easily manageable using a CMS specialized for band websites. I love working with it as it saves myself and the team a lot of time."
– Daniel Regan, Feat First Management
Photos with Epica-fans
While touring, Epica regularly hosts 'meet & greets' with fans attending their shows. At the 'meet & greets', they often take professional photos with everyone. The photos are then uploaded to their website, so the fans attending can easily download their photo with the band afterward. The gallery component of Stage CMS is a perfect fit for this task, allowing Epica to easily upload those photos in one batch.
Twitter & Instagram Integrations
Epica is quite active on Twitter, Instagram and Facebook, using the channels to promote their music and shows. To bring back some of that content to their website, they use Stage's Twitter and Instagram integrations to showcase their recent tweets and pictures.
YouTube Videos as a marketing tool to promote Epica's music
Videos are an essential part of Epica's marketing strategy. Besides music videos, they regularly produce high quality "After Movies" about tours and important festival shows. In preparation for the release of "The Holographic Principle" they also published a three part documentary about the recording process. All these videos are also part of their website, using Stage's video embedding feature, as well as the YouTube integration.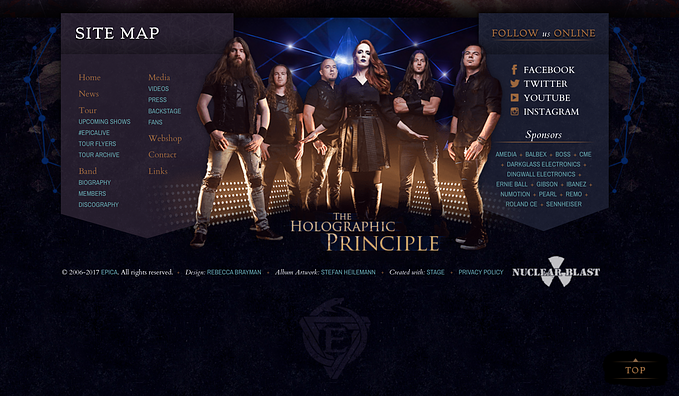 Unique design matching the album's artwork
The design of the website was done by our design partner Rebecca Brayman, based on Epica's album artwork by Stefan Heilemann. It captures the aesthetics of the record and makes the website a part of the whole experience of "The Holographic Principle". The website seamlessly adapts to the size of the visitors' devices, providing great usability both on desktop and mobile.
Thanks to Stage's clear separation of content and design, adjusting the website to the new album release was quick and easy. You can read more about the process of designing the website over at Rebecca Brayman's blog.
Moving the website to Stage CMS
Back in 2014, when Epica decided to switch to Stage, we took care of the whole migration for them. Instead of creating a new website from scratch, we took their existing content and imported it into their new website. This way, fans can browse back in time and still read the news posts from 2003 or dwell in the memories of the tour archive.
Premium Support
We see customer support as one of the core features of Stage CMS. Whenever there's a question or a problem, we're there to assist Epica and their team. This way we can quickly resolve issues that might come up and improve Stage CMS based on customer feedback.
Design Your Own Band Website - with Stage CMS
We would love to have you as one of our happy customers and make a website that looks great, is easy to manage and helps you reach your goals. Stage gets your message out to your fans so more people show up at your shows, buy your music and order your merch. Simply contact us with your questions or request a demo to learn how Stage works and how we can make your website dreams come true.