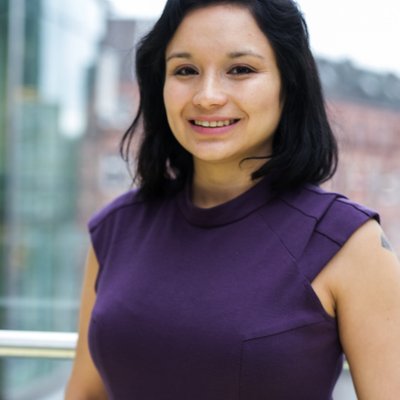 Cristina Mlynek on May 04, 2018
On the Stage CMS Blog, we first dealt with why it's important to have a website for your band and direct your Social Media traffic to it. After that, we looked at strategic Social Media marketing for your band, including content ideas for your social networks and other platforms.
This article takes a look at a marketing "best practice" case, based on a website made with Stage, in order to give you a better idea of what a good online marketing strategy looks like.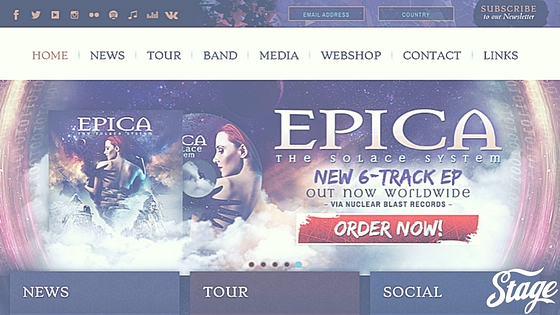 Dutch Symphonic Metal stars EPICA use Stage CMS to market their music.
Stage CMS has been behind EPICA's website since 2014 and since then, the band's marketing game has only gotten stronger, with the Stage-website as a solid foundation. The whole website's structure follows a sales strategy, placing their latest release on the picture slider on top of the front page, complete with links to purchase or stream the album on different sources, including the official online-shops of their record label, as well as popular streaming platforms. EPICA's own webshop is not part of the website but is featured prominently as one of the buttons on the navigation bar. Furthermore, as you scroll down you can see the upcoming tour dates in a compact version - always accompanied by a button to buy tickets.
As soon as you get to EPICA's website you know where to find them everywhere on the internet, where to buy their products and how to stay in touch, whether it be on social media, via their newsletter or by reading their latest announcements directly from their news site. It might not seem obvious at first, but on second look, you can identify the calls to action and see that the website is built to sell.
"You don't want to spam people too much, but you also don't want to keep your mouth shut for too long" - Isaac Delahaye on the balance of social media.
The Dutch band's marketing is a joint effort of the band and their management, as confirmed by Guitarist Isaac Delahaye late last year in an interview (embedded below), where I asked him about it. Naturally, the band, signed to renowned Heavy Metal label Nuclear Blast, counts with the support of a team to take care of their marketing and promotion, but there's a lot to learn from their workflow, even if your band's budget doesn't compare. Want to learn from the pros? Keep reading.
Learn from EPICA's marketing strategy.
Team effort and task management: Both the band and their management work on their online marketing, with "someone from the team" taking care of things when the band is on tour.


If you can't delegate the online marketing activities, plan ahead: schedule blog articles and social media posts beforehand. There are plenty of marketing tools that allow you to schedule posts and make a marketing plan(https://blog.bufferapp.com/social-media-marketing-plan).

Unique audience: EPICA uses geo-targeting for posting multiple content every day without interfering with the main content on their Facebook page. The targeting option in the Facebook post composer is a useful tool for tour announcements or other exclusive activities - why should your South American fans see your European tour announcement if you can avoid it?

This works on other levels just as well. You could, for example, target only your female fans, when you release new merchandise women's sizes.

Consistent visuals: The artwork and all photo shoots are the main theme and always approved by the band. This then becomes the main structure and style for all content.

Agree on "one big style" covering everything, from the website to flyers, to facebook-event-banners. This generates an immersive experience for the fans, always knowing where they are, what band it's about.

Consistent online presence: Although there are different people behind the website - programmer Benedikt Deicke from Stage CMS, a graphic designer, who adapts the band's artwork to the web, marketing people who manage the contents of the website - the band retains the creative freedom and decides over the look and feel of it all.

Even if you don't make all decision alone, agree on a style and keep it through all of your activities on the internet - that's how the pros do it!

Email marketing: With the algorithms of social networks constantly changing, the good old newsletter is making a big comeback. EPICA allows the visitors of their website to subscribe to the band's newsletter right at the beginning, on the very top of the page, next to the social icons.

Think you can tell stories on a regular newsletter to your fans? It should be more than sales pitches, but if you can, you should totally try out a newsletter for your band.

Make more out of Facebook: EPICA's artist page on Facebook features a well-designed tab with links to all sources where you can buy and listen to their music online.

You could integrate your YouTube channel, where you blog or add other cool features to your Facebook page, depending on your marketing goals.

Innovate: The Dutch band tries not to do the same thing twice, except for "traditions", such as the "end of the show"-picture. Their best example is EPICA's variety of music videos.

Think of new and creative ways to promote your music, something never done before that won't cost you an arm and a leg.
If you want to know more, you can watch the full interview with Isaac Delahaye about EPICA's marketing.
With Stage CMS, you can build a website that markets your band's music and looks just like your album.
Whether you want a high-performance website like EPICA's or have different marketing goals and needs, together we can build a website for your band that suits your needs and looks amazing. Request a demonstration today or contact us with your questions.